Top Attractions in Kasese
Kasese is the largest town in the Rwenzururu region in western Uganda located just a little north of Lake George. For travelers, this town is a major safari tour destination because it covers a remarkable part of the Rwenzori Mountains. Equally, it is home to the tree climbing Lions of Queen Elizabeth National Park. Here are some of the top attractions to look out for when planning a city tour in Kasese.
Rwenzori Mountains
The Rwenzori Mountains are the highest in Uganda and the third highest in Africa. The highest peak, Margherita rises to 5,109 metres above sea level. As you journey to Kasese through green open tree country, Mountain Rwenzori makes up most of the landscape. Rugged undulating ridges run against the savannah, outlining the edge of the range.
In itself, the Rwenzori Mountain range is a true beauty. It's all year permanent snow and glaciers have secured it the popular phrase, "mountains of the moon". Plus, it features some of the most unique plant life, fresh water streams and diverse fauna.
What to do here;
Mountain climbing: There is no adventure in Kasese quite like trekking the highest mountain in the country. Following a 7 – 8 day Mount Rwenzori trek, you venture into a completely new world like you have never seen, all the while testing your perseverance against the natural elements.
Birding: The Rwenzori Mountains are one of the best birding destinations in Uganda. They are perfect, especially for sighting Albertine rift endemics such as the Rwenzori Turaco, Rwenzori batis and many more.
Mountain biking: For travelers in search of adventure but prefer not to endure days trekking, mountain biking is quite the escapade. The activity is set upon some rugged paths that are meant to create an adventure thrill quite like no other.
Village walk: Walk the path of the indigenous communities living around the mountain and explore their ways of life. Through remote winding paths, travelers are able to have a taste of local farming, traditional cooking and even natural ways of healing.
Rwenzori Mountains National Park
Nearly 1,000 square kilometers, Rwenzori Mountains National Park is a UNESCO world heritage site located in Kasese along the border of Uganda and DRC's Virunga National Park. Most of its landscape is dominated by hills, including most of the centre and eastern half of the Rwenzori Mountains. Mountain streams fed by snow and glaciers flow through the park, occasionally creating pools and numerous fresh water lakes.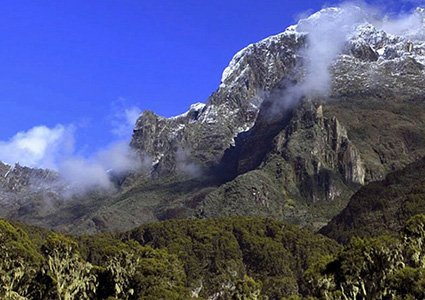 Furthermore, it's location within the Albertine rift makes it a must visit destination in Kasese for unique flora and fauna; especially Albertine rift endemics.
What to do here
Birding: Rwenzori Mountains National Park is an Important Birding Area (IBA) and while here, you can explore several species such as; Barred Long Tailed Cuckoo, Long eared Owl, Golden winged sunbird and Montane Sooty Boubou among others.
Game viewing: There are about 70 mammal species here including; Elephants, Blue monkeys Rwenzori Otters, Chimpanzees, bushbucks and Leopards among others. The three horned chameleon is frequently spotted as well.
Rwenzori Mountains Art Centre and foundry
Uniquely built at the foothills of the Rwenzori Mountains, the Rwenzori Mountains Art centre stands out amidst a dark green background. It is quite easy to access along the road stretching between Fort Portal and Queen Elizabeth National Park.  The facility features an eco-friendly gallery built with natural materials such as wood and bamboo. Inside are several sculptures and crafts made by the locals. Some of the pieces are quite fascinating; telling of local tales and history. On the premises is also a bar.
Queen Elizabeth National Park
Rising to fame following the visit of Queen Elizabeth II of England, this park is presently Uganda's most visited national park. It is located within four districts of western Uganda including Kasese and covers an area of 1,978 square kilometers. Besides the British monarch's visit, Queen Elizabeth National Park is globally acclaimed for its tree climbing Lions and half of the world's Nile Crocodile population.
What to do here
Lion tracking: There aren't many places to track Lions in the African jungle, and Queen Elizabeth is home to almost half of the country's lion population. Spend an average of four hours on this top predator's trail, watching them rest and sometimes even hunt.
Game drive and Birding: With 95 mammal species recorded in this park, you definitely must have a game drive here. The southern Ishasha sector is the avid home for the tree climbing lions that are abundant here. A 600 species bird count also makes it a great place to go birding.
Kazinga channel boat cruise: This is where Hippos and Crocodiles "hang out". Travelers are able to spot an array of bird life along the water's edge and also encounter the largest population of Nile Crocodiles in the world.
Chimpanzee tracking: Trek Chimpanzees in the deep set Kyambura gorge; an 100m deep trench of montane and tropical flora. The gorge is also a great place to see other primates such as Monkeys and Baboons.
Hot Air Balloon safaris: Queen Elizabeth National Park is one of the only two places in Uganda where you can enjoy an aerial game viewing adventure.
Lake Katwe explosion craters
Lake Katwe explosion craters are intensely beautiful. They are located just at the edge of Queen Elizabeth National Park in Kasese. Lake Katwe is an important source of salt consumed domestically and within East Africa. While here, you are able to witness the process of salt preparation and do some hiking as well.
Kasese is nestled within a rich tourist part of Uganda; featuring the Rwenzori Mountains and Queen Elizabeth National Park; where tree climbing Lions abound. To plan and book your Kasese city tour, contact us on;
Email: info@ugandasafaritour.com
TEL: +256-393-194074