Ameera Africa Safaris
Uganda Safari Tours & Holidays Trusted Agency
Safari Tours and Vacations in Uganda
The "Pearl of Africa" is an amazing safari vacation destination, there is absolutely no doubt that Uganda is blessed with spectacular natural beauty, a fantastic climate throughout the year,  diversely interesting safari attractions and diverse culture.
Do you wish to have an encounter with the mountain gorillas? Then a Uganda safari tours is one for you, the country is home to half of the remaining endangered gorillas in the whole world inhabiting the dense Bwindi Impenetrable Forest. Further more, catch a glimpse of the amazing chimpanzees in the Kibale National Park as well as the rarest of bird species while on your Uganda Safari holidays.
A Uganda tours doesn't stop there, you get to explore the adventurous part of your life by taking part in the wide range of water sports such as white water rafting, kayaking, bungee jumping, boat safaris among others, hike up to the glacier topped Rwenzori Mountain and traverse north to the roaring waters of the Murchison falls.
Let Ameera Africa Safaris craft your magical safari vacation around your interests and budget, your tailor-made Uganda Safari Tours & Holiday by our expert team will see you have a glimpse of the  splendid diverse culture , nature and bounty of wild life such as the big 5, hippos, Nile crocodiles, surely it will be an experience to reckon with.
"Travel in times of uncertainty – The new normal travel guidelines (SOPs).."
Uganda Safari Tours Activities
With over ten wildlife protected areas, the Pearl of Africa is the perfect destination for Uganda safari holidays game drives in Africa. When it comes to wildlife Uganda tours, this destination is quite unrivaled and you will find that excellent opportunities to see the BIG5, such as Elephants, Leopards, Rhinos and many more, are abundant.
Experience the utter thrill of wildlife safari tours in Uganda where you get a glimpse of some of the 342 mammal species of Uganda's wildlife protected areas with Ameera Africa Safaris. Our Uganda safari holiday packages are aimed at presenting you with the best face of wild animals in their natural habitat and a raw wild side of the best national parks and game reserves in Uganda.

Tick off phenomenal animals sightings off of your Uganda safari tours and holidays bucket list such as; the tree climbing Lions of Queen Elizabeth National Park, the Mountain Gorillas of Bwindi and the Chimpanzees of Kibale National Park among others. Truly, with our tailored game drives, you can have all the fun in the wild and never quite get enough!
Uganda tours game drives can be arranged at the most appropriate time for you; either early in the morning, late afternoon or at night. Early morning game drives are ideal for catching some great vistas as animals head out of their nests to hunt and go about their day. The afternoon brings with it drama of its own as animals make their way to water sources to quench their thirst but end up fighting off predators instead.
Night game drives are often a delight for scientists and researchers who intend to observe some nocturnal animals that are hard to spot during day. Get your camera ready for incredible animal shots within open savannah fields of popular spots like Buligi and Paraa in Murchison Falls National Park and the peninsular areas of Queen Elizabeth National Park as you enjoy your safari tour in Uganda.
Therefore, when you plan for your Uganda safari tours with Ameera Africa safaris, prepare for your senses to be awakened as you indulge in a trip with a game ranger and your Ameera safari team to see some animals like Wild dogs, Serval Cats, Zebras, Hyenas, Jackson's Antelopes, baboons, Kobs, Giraffes, Chimpanzees, Monkeys, Baboons, and Warthogs among others.
Perhaps you have heard about the endangered Mountain Gorillas of the world but you have never quite seen them? Well, with our personally tailored Mountain Gorilla trekking Uganda safari vacations, you have the ultimate chance to experience what it feels like to stand in close range with these giant apes. We assure you, almost no experience can outmatch that moment!
Mountain Gorilla trekking is without doubt, the backbone of wildlife safari holidays in Uganda and the world at large. This is majorly because these endangered mountain gorillas only exist in the verdant jungle of Bwindi and the Virunga Mountain range. Consequentially, Gorilla trekking Uganda tours are only possible in Uganda, Rwanda and the DR of Congo.
In addition Uganda is uniquely blessed to be a home to about 400 individuals; almost half of the world's Mountain Gorilla population, making it the top destination for Mountain Gorilla trekking Uganda tours. 
With Ameera Africa safaris, your chances of spotting a Mountain Gorilla while on safari tours to Uganda are 99.9%. No other odds elsewhere could ever beat that!
Mountain Gorilla trekking can be experienced in two places while on your Uganda safari tours & holidays; Bwindi Impenetrable and Mgahinga Gorilla National Parks. Bwindi Impenetrable National Park provides a safe haven for 14 habituated mountain gorilla families with 600 individuals in total while a smaller population of the gorillas is found in Mgahinga gorilla national park with only one habituated gorilla family and about 300 individuals that are mobile between Uganda, Rwanda and the DRC. 
The adventure is quite a thrilling one right from the point you set off from your lodge at about 7.00 am. After a short briefing to prepare you for the experience, start your trek into the deeper reaches of the jungle accompanied by a game ranger and a guide. It will not be long before you come within the presence of the Mountain Gorillas and you can observe them from a safe distance of about 8 – 10 meters.
Often foreign residents and non residents pay 700 USD for a Gorilla Trekking Permit while East African residents pay 250,000 UGX then they can trek these gorillas in groups of 8 people while on their Uganda tours. Ensure to always abide by the set rules such as a 15 years' minimum age limit, no littering or physical contact with the Gorillas and refraining from any sudden movements and noises.
When you speak of a primate Uganda safari holidays, you must look forward to our Chimpanzee trekking adventures! Although most people might think a primate adventure starts and ends with trekking Mountain Gorillas in Bwindi or Mgahinga, we seek to present you with a fuller picture of Uganda's primates; and that includes the ever charming Chimpanzees.
For the more adventurous souls, Chimpanzee trekking is always a must do activity while on your safari tours in Uganda. Many a tourist will also ascertain to the exotic charm of this activity that beckons you to the laid-back thick green of Uganda's primate capital; Kibale National Park. With Ameera Africa Safaris, you get to walk the path of intrigue with about 5,000 Ugandan chimpanzees.
There are about 1,200 Chimpanzee individuals in Kibale National Park and unlike Mountain Gorilla trekking, Chimpanzee trekking will keep you on your toes! This is simply because Chimpanzees are highly mobile and will swing from one branch to another with such graceful ease as they attempt to pluck the highest fruits in the top branches while putting to test their leaping abilities.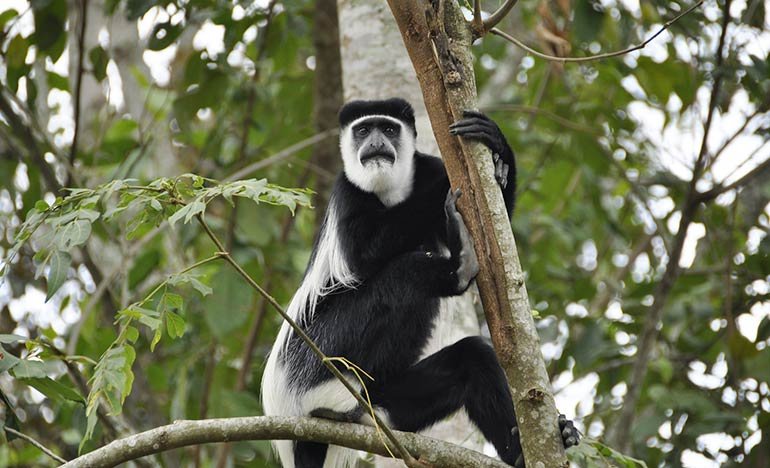 On these Uganda safari vacations Chimpanzee trekking, your main job is to keep up with the high pace of Chimpanzees while staying as quiet and as far as possible so that you do not get their attention. Spend about 1 – 2 hours observing these primates from a safe distance of 8 – 10 meters as they feed and play with each other. Do not touch, feed or engage the Chimpanzees and always observe the minimum age limit set.
With such a huge number of Chimpanzees in Uganda (5,000 individuals), we organize Uganda safari holidays Chimpanzee trekking in other protected areas throughout the country such as Budongo forest with 610 individuals and Kyambura with about 29 individuals. Other destinations include; Kaniyo Pabidi and Kalinzu forests among other destinations.
Compared to Mountain Gorilla trekking, a Chimpanzee Uganda safaris tours is quite affordable. Permits in Kibale National park cost about USD 100 – 150 depending on the season while they cost about USD 50 in Kyambura gorge and USD 90 in Budongo forest. However, Chimpanzee trekking adventures are always worth it and we can guarantee that you will always be glad you went!
Are you a bird lover that enjoys a colorful spread of wings in the wild? If yes, a bird watching Uganda safari tour is the right adventure for you. Uganda boasts of about 1,066 recorded bird species including a cocktail of at least 2 endemic species, 66 accidental and 3 species that have been introduced by humans. On East African level, Uganda harbors 150 endemic species that cannot be found elsewhere in East Africa.
With Ameera Africa Safaris, you only need a good camera and a good pair of binoculars to complete your birding Uganda safari vacations. Clear open skies and open fields make for the best bird watching platforms in top places like Queen Elizabeth, Murchison Falls and Mgahinga Gorilla National Parks. Forest varieties are abundant in destinations such as Bwindi Impenetrable Forest and Kibale National Parks.
Highlight your Uganda tours birding adventure with an escapade to Semliki Valley National Park; a destination for at least 20% of Uganda's endemic and unique bird species. Uganda safari tours in Semliki are quite like no other as you encounter mind blowing popular specials like the Gray crowned crane, Shoebill stork and dazzling red throated bee eater among others.
This is definitely going to be your Uganda tours birding adventure of a lifetime with Ameera Africa Safaris as we whisk you away to destinations that might feel somewhat mythical for your Uganda safari holidays. A pointer and a birder's guide book will come in handy as our guide draws your attention to a bright winged creature balancing off a twig from a tree near you.
More birds to capture on your Uganda safari tours and holidays include; the Egyptian plover, Blue Turaco, papyrus gonolek, Black billed Barbet, Back bellied Bustard, Abyssinian Ground Hornbill, African Darter, Yellow fronted Tinkerbird, Goliath Heron, Rock Pranticole, Blue napped mouse bird, Silver birds, Veracious Dove, Black headed lapwing, Nkulengu rail, Giant Kingfisher and long tailed Nightjar among other birds.
Volcanoes Hiking and Mountain climbing
Meet the highest points of the country with our Uganda tours Volcano hiking adventures. There are about six mountains in Uganda with the most popular being the Rwenzori Mountain range, Mt Elgon and the Virunga Mountain range. Volcanoes Hiking and Mt climbing Uganda tours are definitely a must do when you arrive for your safari tour in Uganda.  
The Rwenzori Mountain Range, also known as the "Mountains of the moon", happens to harbor the highest point in Uganda and also the third highest in East Africa and Africa at large. Journey with us as we scour the ridges of Rwenzori for a chance to experience the snow capped Margherita peak and the endless glaciers that crown the Mountain top.
The battle to the summit often kicks off at the base of the mountain where you are often greeted with a mixture of rainforest and marshes. Witness the vegetation of these volcano ranges grow from rainforests through moorland to alpine zones with unique vegetation that you might not see elsewhere in the world. Your reward will be a breathtaking landscape escaping over the borders into a totally new world.
Volcano climbing or mountain Rwenzori hiking for that matter goes without saying that it is not an adventure for the weak in spirit. This particular Uganda tour adventure will be the ultimate test of your physical and emotional capabilities as you endure cold weather streaming down from the glaciers of ice and the physical strength the actual hiking takes.
Apart from the physical stress on your body, the emotional strain and the altitude sickness, hiking Uganda's highest mountain range on a Uganda safari tour is a sure way to touch up tours to Uganda adventure as you stand at an elevation of 5,109, the highest point in Uganda with endless picturesque vistas. Also with our specially tailored volcano hiking Uganda tours, we make the hustle fun.
Always remember to stay as hydrated as possible and carry enough snacks and chocolate bars to get you through the hike. Resting your body and eating enough between the hikes are key in getting you to the summit. In addition, we recommend that you take off enough time to train, months before your Mt climbing safari tour in Uganda.
There is no better way to understand the people of Uganda than to learn about their culture, values and traditions. With about 54 tribes, expect to dive into some of the most vibrant ways of life on the planet with our special Uganda safari tours cultural experiences or encounters. We bring you closer to ancient Ugandan lifestyles that have been hidden from the world.
From the popular Karimojong of the north to the Buhoma community of the south, the Uganda tours experience only gets better. Tread the edges of Uganda's national parks, where countless lives have long depended on the natural resources exuding from these wildlife protected areas. The cultural experience adventure really lets you walk in the footsteps of tribes men that lead a totally different life from yours.
After your wildlife Uganda safari vacations, visit some cultural villages strategically positioned around national parks and game reserves that offer a feel of what living like a traditional Ugandan is. You can help prepare and taste local cuisines, make or purchase artifacts and visit the plantations to learn how food is locally grown, harvested and maybe even processed.
The Boomu women's group is one of such cultural centers of locals and it was started in 1999 with the sole intention of promoting local village lives through income generating activities that would in turn help eradicate poverty, malnutrition and keep children in school. Initially the group had only female members but currently even men are welcome to join.
Other Uganda tours cultural villages include; batwa community, KAFRED and many others. These cultural villages provide a chance for a cultural safari adventure involving activities like farming, herbal medicine making, music dance and drama, preparing and tasting local meals, arts and crafts and perhaps even visiting the local school where the children go.
These cultural villages are beneficial both to the locals and the tourists. When you visit on your safari tour in Uganda, the income generated from your tour is directed towards providing better health care, education and other social services to the natives. In turn, the local's lives are made better through participating in income generating activities such as selling artifacts and working as local guides.
What do you like to do in the afternoons, boat safaris? Then we totally got you. At Ameera Africa safaris we understand that Uganda safari holidays are fuller and more complete with calm voyages across the water's surface to more treasures beyond. Our Uganda safari tours packages are now more adventurous than ever as we take you to some of the best spots for a boat cruise or launch all over the country.
Escape the immense tropical heat within a boat with your guide as you transverse the natural streams of the 'pearl of Africa' for our safari tour in Uganda. The water's edge is often delicately lined with soggy marshes that hide birds like the Shoebill and papyrus gonoleks. Uganda tours boat safaris are also particularly great for spotting animals like Nile Crocodiles as they catch their prey.
The Kazinga Channel in Queen Elizabeth National Park is one of such places where a safari tour in Uganda is perfect for a boat launch. The Kazinga channel is a 40km stretch of fresh water, joining Lakes George and Edward. Often, an afternoon 2 hour Uganda tour boat cruise on this Channel is the perfect way to meet half of the world's population of Nile crocodiles and a variety of wildlife.
The Kazinga channel is a 40km stretch of fresh water, joining Lakes George and Edward. A 2 – hour Uganda tour boat cruise on this Channel is the perfect way to meet half of the world's population of Nile crocodiles. The next stop is the Nile cruise leading to the majestic falls in Murchison Falls National Park where riverine forest grows in abundance.
Other super cool Uganda safari tours & holidays destinations for boat safaris include, Lake Mburo, Lake Mutanda and the source of the Nile among others. A typical Uganda safari vacations boat cruise takes about two hours on a round trip following the water course as you enjoy sights of water life like hippos, flamingoes, Egrets and monitor Lizards and other animals.
With Ameera Africa safaris, make nature walks and light hiking part of your Uganda safaris tours. Our sole purpose is to give you the 'ultimate Uganda safari' and that involves exploring all the natural goodness that our dear motherland, Uganda, has to offer. Our Uganda safari tours & holidays extend beyond game drives, boat safaris and Hot Air Balloon adventures to nature walks.
Choosing a nature walk is one of the best safari experiences with our Uganda safari holidays since it brings you closer to nature and towards your wildlife safari with a more natural feel. Come up close and personal with a few antelopes and Zebras in Lake Mburo National Park in order to capture those phenomenal pictures that all your friends back home will be talking about for a while.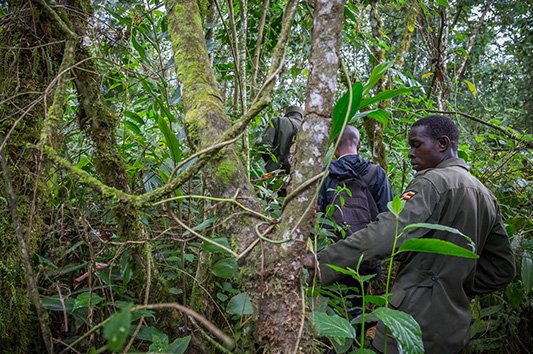 In addition, Lake Mburo National Park is one of the few protected areas where you can have a nature walk. Bright red orange sunsets make for the best vistas across the wild plains in this national park with Ameera Africa Safaris tour in Uganda. Nature walks are also incredibly convenient for landscape viewing compared to the usual 4*4 wheel vehicle. They allow you to stand upon rugged hills to scour the horizons beyond.
Have you ever had Uganda safari vacations birding adventures on foot? How about visiting the Royal Mile in Murchison Falls National Park with us? Drown yourself in a variety of bright colored birds along this road including some rare birds like the Puvel's Illadopsis, strange weaver, Regal Sunbird, Dusky crimson wing and Grauer's swamp Warbler among others.
Walking safaris can be accomplished in various destinations around the country, depending on your choice and preferences. Our expert team at Ameera Africa Safaris allows you to have the best walking and nature walk experience as you discover Uganda's wildlife on your safari tour in Uganda. With our safari packages, only the best destinations for your walking safaris in Uganda await you.
Behind the crowded streets and the ditches in the roads, Kampala city is a vibrant, modern and religious city as well. Kampala city is Uganda's Capital and main center for all operations in the country. It is moderately populated with people of various ethnicity, culture and religions with some being natives and others, immigrants. It is the absolute definition of a metropolitan town!
When it comes to celebrating and living life to the fullest, never count out the people of Kampala. Uganda safari holidays in Kampala city offer some spectacular luxurious sights with the best hotels located within the city centre and its outskirts. Have a go at some of the tastiest cuisines on your Uganda safari tours, comprising of both exotic and eccentric dishes and drinks.
Join us on a safari tour in Uganda cultural experience by visiting some top ancient sites around Kampala city such as the Kasubi tombs; where fallen Kings of the Ganda kingdom are buried. The tombs also contain ancient royal artifacts like spears, drums and other royal hunting gear that was used by the ancient Kings to rule and spear head hunts. We also organize trips to the King's Palace where Amin's torture chamber lies almost forgotten.
With our Uganda safaris tours stop by the Namugongo martyrs' shrine that bares remains of about twenty two Catholic martyrs that were burned to death on orders of Kabaka Mwanga because of their faith. For many visiting these shrines of the Anglican and Catholic martyrs can prove quite emotional to learn of their gruesome death since some of them were really young.
Continue on a spiritual journey through Kampala's culture with Ameera Africa Safaris as we take you on Safari tours in Uganda to more religious sites such as the Rubaga Cathedral and St Paul's Cathedral Namirembe; the first ever Cathedral to be built in Uganda. These ancient cathedrals boast of exotic architecture that draws many to their walls.
There will be equally enough time to visit the Gaddafi Mosque, if you wish, as part of Uganda tours cultural experience. The mosque was built by the assistance of former Libyan President Muammar Gaddafi and is the largest Mosque in East Africa. Other sites to see on these Uganda safari vacations is the Uganda Museum, Ndere cultural center, art galleries, independence monument  and many others.
Water Sports along River Nile
White Water Rafting
Perhaps you have heard that River Nile is the longest river in Africa. Although that is very true, at Ameera Africa Safaris, we acknowledge that it isn't all there is to the Nile. River Nile is bursting with an endless array of fun activities to try while on your Uganda safari Holidays. From beautiful riparian scenery to wildlife and water sports, the Nile is a must visit for a safari vacation tour in Uganda.
White Nile rafting or White water rafting is one of many such water sports that you can indulge in at the Nile on your Uganda safari tours and holidays. Many people consider this sport extreme and some might even shun it off to the more adventurous souls but the truth is White water rafting is one of the most exhilarating sports or Uganda safari tours activities that you can ever do.
Uganda tours White Nile rafting or white-water rafting is the most undertaken Uganda tours water activity mostly because of its genuine thrill and adrenaline inducing capability. River Nile is blessed with rapids that range from grade 3 all the way to grade 5, and as it flows northwards, it cascades from clear calm streams to white moderate and intense rapids.
This intense Uganda safari tours and holidays experience is the ultimate test of resolve as you embark on battling the Nile rapids. Visitors are often allowed to choose the rapid grade that they can handle and you can always opt for moderate or intense grade 5 rapids. The whole point of White water rafting is embracing the intensity of the Uganda tours natural beauty as you hold onto a rope for dear life.
Prepare to feel your heart pumping in your chest as the raft smashes into the rapids and its occupants are sent flying into the air before hitting the water in a free dive.  There is no need however to fear the experience or shy away for lack of expertise as the water rafting team will brief you and basically train you in the free-flowing section of the river before actually hitting the rapids.
We recommend a clean and dry set of clothes as you will find yourself in and out of the water often between the experiences. Plenty of snacks and drinking water is also highly necessary. White Nile rafting Uganda safari holidays can be done either on half day basis or full day basis with the best Ameera Africa Safaris team always making sure you have the best and safest trip possible.
Bungee Jumping
What would you do if you had the opportunity to jump sky high off a 44 meter cliff and hang over the renown River Nile? With Ameera Africa Safaris, we make all that possible and readily available to you. Our Uganda safari vacations water sports on River Nile entails a once in a lifetime jump on top of River Nile to test how much you can handle heights.
Visitors are led towards a tower, erected about 44 meters high on a cliff overlooking River Nile. The main tip while on the tower is not to look down especially if it is your first time. Do not be surprised to see people changing their minds about jumping once they look at the bottom where they are meant to touch the water… yes, Uganda tours bungee jumping can be that intimidating!
After a short briefing about what to expect and what to do to remain safe, a strong elastic cord is tied to your legs and you are encouraged to jump. At this point, it might feel really scary but once you let go of that fear and take a leap, it will feel like soaring through the air like a bird over this tropical natural beauty.
Once it feels like you are about to touch the water, the cord pulls you back up and you are flying again. The adventure continues for about 3 times as you fall and are pulled back by the cord before you are eventually untied and taken away in a boat back to shore.
Bungee jumping safari tour in Uganda can be organized in many forms including tandem jumps and water touch frequency. However, no matter what you choose, at Ameera Africa Safaris we believe that you should have the best experience and we do our very best to ensure this. Additionally, with bungee jumping, you will be able to overcome your fear of heights.
There is no set minimum age limit for visitors seeking to undertake bungee jumping but definitely a 40 kgs minimum weight limit is a must. Couples can have the experience of jumping together and those who are scared can jump with their friends. Always ensure that you are in a good health condition because illnesses like heart problems might cause adverse effects when you jump from such a high distance.
Quad Biking and Horseback safaris
Uganda safari holidays Quad biking and Horseback riding along River Nile are almost similar only that you either have the experience on a Quad bike or on the back of a horse. Explore the rural side of Jinja as you follow a clear trail through riparian forest, local plantations and villages. This experience has a cultural touch to it in the sense that you get to meet the natives and learn a bit about their ways of life. You only have to watch out for the children!
Kayaking and Jet Boating
There is just so much to do with our safari tour in Uganda water sports on River Nile. It always comes down to what you would like to do at that particular time and our team of experts is always there to ensure you have the best experience and tour. Kayaking and Jet boating are yet another way to indulge in extreme water sports along River Nile in Jinja.
Take on the immense rapids of the Nile inside a Kayak on a safari tour in Uganda with Ameera Africa safaris for an experience you will be telling your friends about. The experience is quite safe as you will have a life jacket on and a helmet to protect your head in case you fall out of the Kayak. Be sure to carry a good camera and enough battery to take all the pictures that you will want to keep.
Tubing
Uganda safari vacations tubing adventures along the Nile basically involves floating along the river in a tube. The adventure welcomes both young ones and adults and is the perfect water sport for the family. If you are looking for something to bond over, then tubing is for you. Uganda tours tubing along River Nile is conducted over the calm free flowing section of the river and is totally safe.
Unlike boat cruises that are popular with some national parks in Uganda, Lake Bunyonyi introduces another approach to water excursions; canoeing! For our Uganda safari tours & holidays, we offer canoeing on Lake Bunyonyi to give you a more diverse safari itinerary from the usual. We journey to the western part of Uganda for this once in a lifetime experience.
Lake Bunyonyi is a natural water body located between the Kisoro and Kabale districts in the south western part of Uganda. At a depth of 44 meters to 900 meters (allegedly), Lake Bunyonyi is believed by many environmentalists to be the second deepest lake in Africa. The lake stands at 1,962 meters above sea level and is 25 kilometers long and 7 kilometers wide.
Canoeing is quite unique in the sense that you have to employ a more traditional "boat" called a dug-out canoe that you sit in while you paddle to your destination. The dug-out canoes are made from tree trunks that are hollowed out to create enough space for people to sit comfortably in. We bet this experience is one that you might not encounter elsewhere on your Uganda safari holidays.
Lake Bunyonyi is one of the Uganda tours lake that have been blessed with beautiful scenery comprising of free-flowing hills and 29 Islands. Picture standing before an open blue sky complemented by clear blue waters and endless hills covered in riparian forests, tea and banana plantations. We couldn't think of a better way to finish off any Uganda safari tours.
With Ameera Africa Safaris, Canoeing on Lake Bunyonyi doesn't simply end at exploring the surface of the Lake in a dug-out canoe but extends to exploring the natural features therein. We hope you are ready to paddle your way to arrival at some of the unique islands scattered on the lake such as Sharp's Island and Punishment Island that harbors a sad history for being an exile for pregnant unmarried girls in ancient Bakiga culture.
Enjoy your Uganda safari vacations at Lake Bunyonyi in a dugout canoe as you sail past Islands and some bird life. The lake is also free from Bilharzia thus it is safe for swimming and some mild fishing. The surrounding hills engulfing the Lake are fertile ground for local cultivation with crops like Tea and bananas mainly grown. We encourage you to have a camera so that you can capture these once in a lifetime moments.
THINGS TO KNOW BEFORE TRAVELLING TO UGANDA
Freqently Asked Questions
1.  Is Uganda safe for a safari tour?
Yes, Uganda is safe for your dream safari tour vacations. If you have been planning for Uganda safari holidays and you are worried about your safety, then you shouldn't be. There are a few guidelines if which followed shall help you keep safe on your Uganda tour. The first step is to ensure that you book your safari with a qualified and registered safari company.
Ameera Africa Safaris has been serving clients on the safari scene for years and has experience in planning the perfect Tours to Uganda. Also ensure that you have all required and necessary vaccines so as to safeguard your body against any preventable diseases. Carry insect repellants to keep off the mosquitoes along with any personal medicine you might need.
When it comes to Uganda safari tours physical safety, our team will always pick you from the designated destination to the safari point and back to your hotel room. They will also always accompany you during your safari alongside a game ranger or guide. Tourists, especially women are also urged to walk in groups and avoid walking at night.
2. What are the visa requirements for Uganda travel?
When you are traveling for your Uganda safari holidays and you are not coming from the Visa exempted African countries, then you will most definitely need a visa. The visa acquisition system has been improved to allow Uganda tour travelers to apply for their visas online, prior to the Uganda safari tours.
Initially, you will have to visit the Uganda Immigration page and begin the application process. After approval, you will be requested to make a bank payment, attach the receipt and then you will be notified of when your visa will be ready. Upon arrival at the airport, you will be able to receive your visa.
A single Uganda entry visa usually costs about USD $50 and a multiple entry visa costs about USD $100. For travelers that wish to merge visiting Kenya and Rwanda with tours to Uganda, it is highly recommended that they apply for a 90-day multiple entry East African Tourist Visa that will allow them to enter other East African countries on the same Uganda safari.
3. What wildlife can I see on my Uganda safari?
In respect of the fact that Uganda is home to 342 mammal species you must should expect a wildlife show with Ameera Africa Safaris while on your Uganda safari holidays and vacations. Moreover, the country offers all members of the Big 5 including Lions, Leopards, Buffaloes, Elephants and Rhinos; making it a top one stop destination for safari tours in Uganda.
Animals in Ugandan national Parks and reserves can be viewed while on a game drives and trekking adventures with Ameera Africa while exploring on Uganda safari tours. The wildlife is often aligned along water points with specials like water animals and birds. There are tracks that are often followed during wildlife safaris to offer the best views.
Apart from the Big5, you will come across other animals on your Uganda safari holidays such as; monkeys, civets, wild dogs, Giraffes, Uganda kobs, bush baby, Defassa waterbuck, Chimpanzees, duikers, kudu, jackals, Bushbucks, baboons, Gazelles, foxes, hartebeests, hippos, crocodiles, pottos, serval cats, warthogs, Eland and Hyenas among many others.
4. What to pack on my Uganda safari?
The trick with packing for any Uganda safari tours is to travel light. You do not want heavy luggage getting in the way of your Uganda tour fun since you might find yourself in need of porter services during a hiking or mountain climbing adventure. It is always wiser to just stick to the essentials like personal medication that you will need during your safari vacation while in Uganda.
For most Uganda safari holidays, you will need a hat and sunglasses to protect from direct sunlight and some light fabric clothes with dull safari colors like navy blue, army green, brown and black to help you blend into the jungle. Also invest in some long-sleeved shirts, sweater and trousers for cold evenings and early mornings.
Finally, for the most important part, ensure that you have all the necessary tours to Uganda documentation like a valid passport, Visa and vaccination certificates. In case of any medical needs, carry your documentation with you and make your medical needs known to your travel agency prior to the Uganda Safari Tours & Holidays.
5. What are the accommodation options for a Uganda safari holiday?
With Ameera Africa Safaris, you can always have the best accommodation option that matches with your safari vacation budget whether you wish to enjoy a luxurious time in a suite on your safari tours in Uganda or whether it is more of a jungle feel for you and you want to spend more time with nature. In that case; a camp in the wilderness can be set up for you.
You will have the best accommodation option while maintaining comfort and a memorable experience. Some top famous facilities include; Paraa safari lodge in Murchison Falls, Lake Bunyonyi resort on Lake Bunyonyi, Mweya safari lodge in Queen Elizabeth, Apoka safari lodge in Kidepo, and Bwindi lodge near Bwindi Impenetrable National Park among others.
6. What is the best time to visit Uganda?
You will read on many safari blogs and in articles that Ugandan weather is safe for Uganda safari tours anytime; arguing that Uganda has relatively fair weather all year round without winters or tsunamis. To some extent, this is true. However, you need to plan your Uganda tour in the perfect time since it can greatly hinder the safari.
In addition, even though there isn't any snow to block the roads, heavy rains can make it impossible for you to travel to the Uganda safari holidays destination or to even have a hiking and mountain climbing adventure. In fact, on a heavy rainy day, you might not even be able to trek the mountain gorillas!
Therefore; it is of utter importance to organize your Uganda tours during the dry season when the roads, although dusty, are passable and wildlife is readily available as they search for water and food. Also, migratory birds are often around the neighborhood as well. The dry months usually run from December to February and June to July.
7. Is it safe to drink tap water?
No. Tap water in Uganda isn't safe for drinking and you might catch typhoid if you drink it straight from the tap or the jerry can. However while on your Uganda tours you have bottled water throughout your safari, you may also carry some extra cash to purchase safe bottled water while on your Uganda Safari Tours & Holidays.
8. What are the languages used?
The fact that Uganda is a metropolitan state with over 41 languages spoken is enough relief for a tour to Uganda traveler. This is simply because out of all these languages, there will be at least one you can speak. The most commonly used languages are English, Kiswahili and Luganda; with English being the official language.
The Ameera Africa team maintains a healthy balance between professionalism and hospitality so English is often used on Tours to Uganda so you should not be worried about not being able to communicate. Luganda may occasionally be used during cultural encounters with the locals in instances where you have to greet or interact.
9. What are the things to do a safari tour to Uganda?
Owing to the fact that there are endless safari vacation activities to enjoy on Uganda safari tours, you need to have the right guidance. Therefore, when planning a Uganda tour, it is best to work with a qualified travel agency like Ameera Africa to best tailor a Uganda safari holidays package that caters for all the things you want to see on your safari.
Get your best hiking boots and get ready to tread the steep slopes of Bwindi in search of mountain gorillas that are the greatest delight of the tours to Uganda gorilla trekking safaris. Gorilla trekking is the core of tours to Uganda safaris in line with other activities like golden monkey and chimpanzee trekking, birding and game viewing.
Alternatively, there is a lineup of water activities for Uganda Safari Tours & Holidays on the Nile like Kayaking, White water rafting, jet boating, quad biking, boat safaris and bungee jumping. For a more relaxing adventure, you could opt for a canoeing adventure on Lake Bunyonyi, sport fishing or work your muscles during a volcano hiking on a Uganda tours with Ameera Africa.
10. How much does a Uganda safari cost?
So much goes into Uganda safari vacations starting right off from transportation or transfers, food, accommodation, permits, entrance fees, guides and so much more. Therefore to ascertain the real cost of Uganda safari tours and holidays with Ameera Africa Safaris, we would need to take into account all of these costs.
For starters, accommodation for a safari tour in Uganda ranges between USD 150 and USD 900 depending on whether you choose budget, mid-range or luxury accommodations on Uganda tours with Ameera Africa Safaris. Gorilla trekking permits will cost you USD 700 while habituation costs USD 1,500. Chimpanzee trekking permits will cost you about USD 200 while habituation permits will cost you about USD 250.
Transportation and airport transfers can cost you between USD 100 – USD 200 per day. Park entrance fees might cost you between USD 10 to USD 30, depending on where you go. However, if you book a gorilla trekking permit, entrance is always free. Safari activities such as boat cruises, hiking and nature walks and game drives can cost you between USD 20 to USD 30 per activity.
When it comes to meals, you could spend about USD 10 per day on your meals. Tipping might cost you USD 50 while guides are often covered by the company. However, you should always keep in mind that group safaris are often cheaper than private ones since costs like transportation can be split among-st all group members.
Also, you can always choose to go for budget and mid-range accommodations on your Uganda safari holidays so as to cut down on your costs. With all that said, a typical Uganda safari tours could cost you from USD 300 and upwards depending on activities and type of accommodation you choose. Contact our travel experts to tailor make Uganda safari vacations for you basing on your budget.
11. Which country offers the best option for Gorilla trekking, Uganda and Rwanda?
Comparing Uganda and Rwanda for Mountain Gorilla trekking Uganda safari holidays can seem somewhat impossible since each of these destinations offers a unique and different approach to this thrilling experience. So, let us look at some facts to help you come to a conclusion about where to go for your Gorilla trekking safari tour.
a) Currently, there are about 1,063 Mountain Gorillas left in the wild and Uganda is home to about 500 individuals; almost half of the world's population. The rest of the population is distributed between Rwanda and Congo. This means you have more chances of seeing Mountain Gorillas on Uganda tours than elsewhere.
b) In addition, Uganda safari tours and holidays Mountain Gorilla trekking permits in Uganda cost USD 700 for foreign and non foreign residents and UGX 250,000 for East African residents. In Rwanda, however, they cost USD 1,500. This means trekking Mountain Gorillas in Rwanda is more expensive than trekking them in Uganda.
c) Lastly it is worth noting that both countries are politically secure at the moment and you will be totally safe on your Mountain Gorilla safari tour in Uganda. Also, incomes generated from the experience are geared towards conservation efforts to protect Mountain Gorillas and their natural habitat.
With that said, choosing where to go for your Uganda safari vacations Mountain Gorilla trekking is completely up to you…because no matter where you go, you are always guaranteed a blissful experience. Put into consideration however, your budget and guarantee of actually meeting the giants; both of which Uganda takes care of expertly!
12. What is Gorilla Trekking like?
Mountain Gorilla trekking Uganda tours are majorly about hiking or trekking through verdant jungles in search of the endangered Mountain Gorillas. These formidable apes are extremely rare in that you can only see them in three countries in the whole world; Uganda, Rwanda and the DR of Congo. This alone is enough to make the moment exceptional.
Imagine being able to see the Mountain Gorillas that other people basically just think, read and hear about while on a safari tour in Uganda with Ameera Africa Safaris! Then there is the issue of size. Mountain Gorillas are the bulkiest and most powerful living primates in the entire world. They can grow to 4 -6 feet and weigh between 136 and 230 kilograms.
Now picture yourself in the presence of such a big primate that many people have not seen yet. Mountain Gorillas are surprisingly gentle and will mostly mind their business as you stand within 8 – 10m to observe them. So even if it seems scary, it is completely safe! To finish it all off, experience a light hike within the tropical jungles of Uganda in search of these apes.
So, do you want to know what Mountain Gorilla trekking is like? With Ameera Africa Safaris, it is an experience of a lifetime. These Gorillas live at relatively high altitudes and the hike to find them is meant to prepare you for the experience. Once you come in sight with them, it is totally worth it. Your heart will be pumping from such excitement that you will always return for these Uganda tours!
13. What is Gorilla habituation?
Unlike Uganda safari vacations Mountain Gorilla trekking, Gorilla habituation lasts an entire day. The habituation process is all about getting Mountain Gorillas accustomed to human presence so that they can be considered ready for trekking. It is a sure way on your Uganda tours to experience the thrill of coming within close range with these popular gentle giants and also spend more time with them.
If your intention is to indulge in this exclusive adventure, you would wake up very early and head to the park headquarters. While there, you are met with game rangers, a guide and a group of scientists who will be your safari companions for the entire day of your Uganda safari holidays. They proceed to give you a short briefing; providing you with some insights on what to expect, what and what not to do.
The hiking kicks off as you head further into the tropical jungle to find the designated Mountain Gorilla family for habituation. You should remember that these apes are not fully habituated and might seem uncomfortable with your presence but that's the main reason you are here… to 'tame' them enough to tolerate human presence. You just need to remain calm and follow all instructions.
Uganda safari tours Mountain Gorilla habituation often lasts two years until a particular Gorilla family is deemed 'fit' for trekking. Spending an entire day with these incredible apes while observing their behavior in this natural habitat of Africa is nothing quite like any other. The scientists will constantly alert you to some Gorilla body language and way of life that you had probably never heard of before.
Owing to the fact that Uganda safari Mountain Gorilla habituation lasts an entire day and gives you an exclusive Gorilla experience in the best place to see them, it is relatively more expensive than Mountain Gorilla trekking. Uganda tours Mountain Gorilla habituation permits go for USD 1,500 per individual. The fee includes park entrance fees, a guide, game rangers and an entire day in the tropical wild.
14. What does Chimpanzee habituation experience look like?
Much like Uganda safaris tours Mountain Gorilla habituation, Chimpanzee habituation follows the same procedure. It starts with a short briefing early in the morning before heading out into the jungle with a team of professionals including game rangers, a guide and scientists. Getting an early start on this Uganda safari vacations adventure allows you to incorporate the morning breeze into your hike giving you an extra push to finish your mission.
Chimpanzees are naturally active creatures so expect your hike to be a hasty one once the apes start moving. The whole point of habituation on this safari tour in Uganda is to allow some almost wild Chimpanzees to grow accustomed to human presence so that they are available for trekking. With Ameera Africa Safaris, we ensure that your experience is a fulfilling one. Uganda safari tours Chimpanzee habituation requires that you follow strict rules such as always keeping silent since these apes are not used to human presence. The whole experience lasts about four hours as you observe and learn about the Chimpanzees of Uganda and their way of life. Take as many pictures as you like as long as you remember to turn your camera flash off!
From a distance of about 8 – 10 meters away from the Chimpanzees on your Uganda safari vacations, you can easily tell how funny and intriguing these apes can be; especially when the infants are playing with each other. After spending 4 hours with the apes, it is time to leave them to continue the rest of their day without you. Enjoy a feast of your packed lunch in the jungle then start your hike down to the park headquarters.
Uganda safari tours and holidays Chimpanzee habituation permits are a bit more expensive than Chimpanzee trekking permits since the habituation process takes longer than the Chimpanzee trekking adventure. Foreign residents and non residents pay USD 250 for the permits while East African citizens are required to pay UGX 150,000 to spend 4 hours in the wild with the Chimpanzees.
The Chimpanzee habituation permit covers entrance fee, a guide and security on your safari tour Uganda.  You are however advised to book for your permit at least 3 months in advance since they are often on high demand and can easily run out. Booking last minute might lead to some disappointments and inconveniences. Chimpanzee habituation is available all year round but it is worth noting that peak seasons come with a lot of crowds.
15. How do I book for a Uganda safari?
First, before booking for any Uganda Safari tours & holidays, visit our page at https://ugandasafaritour.com for detailed information about top Uganda travel destinations, safari activities and everything else you need to know about Uganda safari. Then head on to view our safari packages and choose the best one for you.
Once you have determined where exactly you what to go and what you want to do for your Uganda safaris tours, continue to get in touch on our email; info@ugandasafaritour.com or call us directly on +256-393-194074 to book your safari. Our team will then engage you and tailor make a personal Uganda safari tour that best suits you.
After booking, you will then be required to make a deposit for your safari to secure your spot and also book necessary safari documents like Mountain Gorilla trekking permits. You will receive a notification and a receipt for your payment after which you can get ready to travel and have the best time on our safari tour in Uganda.
16. What are the other top Africa Safari countries in 2022?
Africa is the top destination for wildlife viewing in the world owing to its vast and beautiful landscape and variety of wildlife. However, there are top safari destinations not to miss out on when travelling to Africa in 2022.
1. Uganda
You do not want to miss out on the endangered Mountain Gorillas that you cannot find in South Africa, Tanzania or on a Kenya gorilla trekking safari. Embrace our Uganda safari holidays for mind-blowing sightings of Mountain Gorillas, tree climbing Lions and other members of the BIG5. Uganda is also home to River Nile, the longest river in Africa that forms some of the most powerful waterfalls on earth; Murchison Falls.
2. South Africa
Visiting South Africa will feel like hitting the jackpot. It is the one place where you can have a little bit of everything. Your first stop is Kruger National Park; a home to an array of wildlife that can just not be rivaled. Do not leave out the meticulously white sand beaches, vast wine lands, colorful cities and tall mountains. South Africa is truly the place to be in 2022.
3. Tanzania:
The home of Africa's highest Mountain is not to be missed either. Tanzania is a dreamy destination that offers you chilly temperatures in the cities of Arusha and Moshi where Mountains Meru and Kilimanjaro respectively can be spotted. Wildlife is readily abundant in the Serengeti plains; also famously known for the Great Wildebeest Migration. Do not miss out on the white sand beaches and deep blue waters of Zanzibar either.
4. Kenya:
Kenya has to date remained one of the best destinations to see wildlife. Our Uganda safari vacations can be tailored to feature a game drive in Masaai Mara game reserve; a wildlife haven like no other. Enjoy unusual sightings of wildlife phenomena like the Annual Wildebeest Migration and endangered species like African Wild dogs, Grevy's Zebras and Nubian Giraffes.
5. Botswana:
If you are on the market for some private game viewing, then Botswana is the destination for you! It is one of those few places in the world where you can enjoy endless game drives in open plains without the presence of crowds to distract you. The golden touch of the horizons beckons you to experience it at your own pace and time.
6. Namibia:
Namibia is definitely a must visit for some of the most beautiful landscapes in the world. It features the ancient Namib dessert, the oldest in the world, extending towards the coast line of the Atlantic Ocean and the skeleton coast. Apart from the scenery and wildlife, the red sand dunes of Sossusvlei are yet another highlight of your trip here.
17. How do I fly to Uganda?
Our goal at Ameera Africa Safaris is to avail you with the best experience possible. In fact we strive on a daily basis to give you the "ultimate safari experience". This entails everything from the moment you set off from your country up to the time you return. We want you to have the best time possible while saving as much as possible.
We offer air ticketing services and our Uganda safari vacations team works round the clock to assist you in booking your flight with the best airline available. There are a variety of airlines that offer direct flights to Uganda from Europe, Asia and Africa; basically from all over the world. All you have to do is contact us for assistance in booking your flight from any of these airlines;
KLM Royal Dutch Airlines
Brussels Airlines
British Airways
Emirates
Kenya Airways
Ethiopian Airlines
Qatar Airways
At Ameera Africa safaris, we also help organize local flights to help you move from Entebbe International Airport to the respective national parks or any other destination. All you have to do is reach out to our team of travel experts to cater for all your Uganda safari holidays needs.
18. What are the health requirements and vaccines I should get before visiting Uganda?
You cannot be allowed to crossover from the airport without a Yellow fever vaccination card for your Uganda safari tours. Therefore, you will need to get a yellow fever vaccine before you travel since Uganda still has a relative risk for you to catch Yellow fever. Also, the vaccine will help keep you safe on your trip.
Additionally, before visiting Uganda you must remember that it is a tropical country and thus holds a risk for exposure of certain tropical diseases such as malaria. It is therefore paramount to take into consideration health measures such as insect repellent and taking preventative medicine before travelling.
Other vaccinations that are not mandatory but you might need to get before you travel include; Covid19, Hepatitis A & B, Polio, Cholera, Measles.
For a better experience on your Uganda safari vacations, we recommend that you run some tests before you travel to make sure you are healthy and fit enough for our Uganda tours. If you are on any medications, please carry them with you as you travel. In case of any allergies or medical emergencies, let us know before you travel so that we make the experience as smooth for you as possible.
19. Do I need travel Insurance on My Uganda safari?
Uganda is completely safe and our Uganda safaris tours are especially safe. However, due to life's uncertainties, it is highly recommended that you get travel insurance before you set off for your Uganda safari vacations. However, the most important thing with choosing a travel insurance plan is to go for one that offers full coverage of your safari.
Additionally, look into a plan that caters for medical coverage in case you catch an illness on your safari, especially for travelers staying longer on Uganda safari tours and holidays. Always make enough research before choosing your travel insurance plan and make clear all the activities that you are going to do and risk involved. Flights and luggage are also other things to consider when getting travel insurance for your safari tour in Uganda.
20. What is transport like on a Uganda safari holiday?
Most of the transfer will be done in a 4*4 wheel Uganda tours vehicle from the time you land at the airport to the point where you reach your destination or lodge. The roads throughout the city centre are mostly tarmacked and you can see people ride past you on bikes and others inside Matatus; Uganda's public transport means.
However, once you reach the remote areas, you might encounter some murram roads especially as you approach the national parks on your Uganda safari holidays. There is no need to worry though as the roads are very passable. Local flights can also be chartered from the airport to drop you off at your destination for your safari tour in Uganda.
21. What etiquette should I observe while on Uganda safari vacations?
Ugandans are generally conservative people therefore you must watch how you act and carry yourself while on Uganda safari tours and holidays to make sure that you have the best experience. Here are a few tips to help you along the way;
Greeting is a sign of courtesy. Whenever you meet people, try as much as possible to greet them and if you can do it in Luganda, even better.
Opt for descent clothes. Stay away from revealing clothes especially those that show your shoulders and chest and those above the knees. If you must wear light or short skirts and dresses, wear some shorts or leggings underneath.
Do not use curse words or obscene language as this is considered rude and highly unethical.
Public display of affection especially kissing is greatly frowned upon.
Uganda is still against homosexuality and lesbianism therefore it would be best to stay away from such behavior especially in public areas.
For More information, make some research or ask our team directly in case there is an issue that you are not clear about before you travel.
The customer care is amazing… thanks for being such a great team… Positives: Professionalism, Punctuality, Quality, Value.
Charlotte Kizza
Staff were professional and very helpful! They made our trip very memorable.
Abdunassar Olekwa
I love the Professionalism of Mr. Nasser, Adam and the team at Ameera Africa Safaris, count on them for top Uganda safaris.
Khamis Ssemusu
Provide extremely quality and valuable tours and safari packages. We had the best time at Sipi with the Ameera team.
Heigmann Bex
Our youth group had a very wonderful experience with the company on the last weekend's gateaway, a top-notch Uganda tour operator.
Sharif Zikusoka
Sign up Today for our Newsletter..