The major event of any Uganda safari tour is a game drive through the glazed savannah of Uganda's national parks to spot some wild animals. It is at that point when you head out in your 4*4 wheel vehicle, accompanied by a game ranger that you will fully get to experience the unrivalled magic of this East African wilderness and wildlife tours Uganda.
From Carnivores to herbivores, large and small, Uganda is blessed with an assortment of animals that are specially crafted to captivate any wildlife lover on Uganda tours. You will have immense opportunities to catch rare animal sightings such as Mountain Gorillas, tree climbing Lions, Nubian Giraffes, Burchell's Zebras and many others…you only ought to bring your camera along, really!
Game drives
As the new day begins, many animals are already out and about to find food and water. It is often in the dim light of the morning that most adventurers will set out on a Uganda safari tour game drive to capture outstanding pictures when animal tracks are still fresh. It is everything from the dew atop the savannah to the golden touch of the sunrise over the Uganda wildlife safaris horizon.
Alternatively, Uganda tour wildlife is readily available on afternoon game drives and late evening game drives. It is in the heat of the afternoon sun that countless animals retreat to the water side to quench their thirst and also cool off from the scorching sunshine. These afternoon game drives are a hot spot for some prey and predator action on wildlife safaris Uganda.
Animals to see on wildlife safaris Uganda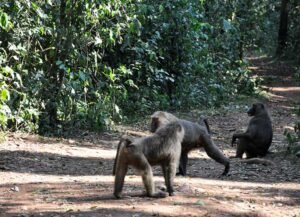 Primates: There are 20 primate species in Uganda including the endangered Mountain Gorillas that you can only find here and in Rwanda and the DRC in the entire world. Other primate species to watch out for include; Chimpanzees, Red tailed monkeys, vervet monkeys, golden monkyes, Olive baboons, L'Hoest's monkeys, grey cheeked Mangabeys, Pittas, bushbaby and White and Black Colobus Monkeys among others.
Big 5: The Big5 are highly sought after on Uganda wildlife tours and have earned a special place in many adventurers' hearts. When you visit Uganda for safari, make it a point to see the BIG5 such as; Lions, African Bush Elephants, Cape Buffalos, Rhinos and Leopards before you head back.
Reptiles: It will quickly come to you that Uganda is quite a diverse destination when it comes to safari. Within the undergrowth of the savannah expect to come across Uganda tours reptiles such as snakes, Monitor lizards, Chameleons, Geckos and many others. The water banks are often a hideout for Nile Crocodiles.
Other animal specials to keep an eye out for while you transverse the wild landscape on Uganda safari tours include; Cheetahs, Jackals, Hyenas, Foxes, Zebras, Antelopes, Uganda kobs, Wild dogs, African Civets, Serval Cats, Mongoose, Genets, Otters, Caracals, Warthogs and African wildcats among many others.  
Where to see them
The best way to see Uganda wildlife on safari is to embark on a road trip to any or all of the national parks in the country. Each destination presents a different feel of the Uganda tours wildlife escapade and there are destinations that you must visit if you are to see a specific animal.
If you desire to watch Mountain Gorillas in their natural habitat on a wildlife safari tour Uganda, then there is no way around Bwindi and Mgahinga. Mountain Gorillas can only be found here in the entire country.
Often known as the "primate capital", Kibale has 13 primate species including the recently discovered Dwarf Galago and is the ultimate destination to catch all the primates in action on a Uganda wildlife tour.
If you have only heard of a tree climbing Lion but have never witnessed one, this is the ultimate destination for that adventure. Queen Elizabeth also offers about 95 mammal species and a healthy Lion population for any Uganda safari tour wildlife escapade.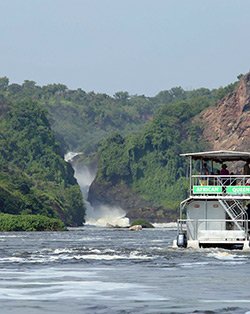 With 76 mammal species, you can never go wrong with a Uganda tour game drive at this destination. Unusual animals such as Burchell's Zebras are often seen grazing against a back drop of the Majestic Murchison Falls; a sight you will not just find anywhere else in Uganda.
This destination is reserved for unique animal sightings that you might not find elsewhere in the country. Spot animals such as Wild dogs, Nubian Giraffes, Ostriches and Hyenas in action on a wildlife safari Uganda in Kidepo.
What to pack
A hat and Sunglasses
Binoculars
A camera
Enough drinking water and snacks
A back-pack
Comfortable clothes in safari colors such as brown, forest green and black
When to go
 During the dry seasons of January to February and June to July, the roads are often dry and the grass is shorter. At this point, you can clearly see animals over long distances and will enjoy great sightings as they gather around water sources.
In a nutshell
As you plan for the best time on a Uganda tour, save some room on your list for a wildlife safari Uganda to catch all the great animals bringing life to the wilderness of national parks such as Queen Elizabeth, Murchison Falls, Kidepo and Bwindi Impenetrable National Parks. The memories you will make here are those you will enjoy sharing with friends back home.
To book a Uganda tour wildlife adventure in Uganda, contact our tour experts on +256-393-194074 or email us on info@ugandasafaritour.com.