3 Days Murchison Falls Uganda Safari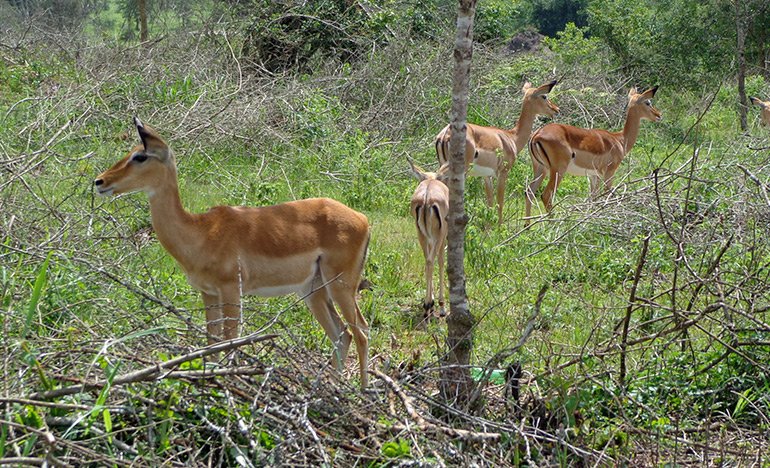 Overview
The 3 days Murchison Falls Safari is set against the lush green riparian forest of Murchison Falls in north Eastern Uganda with a touch of open savannah plains and the clear streams of River Nile. We journey with you for a 3 days Murchison Falls Tour to one of the most popular national parks in Uganda.
In addition, Murchison Falls National Park is the largest park in Uganda covering over 3, 893 square kilometers. It is home to about 76 mammals, 451 bird species and the Majestic Murchison Falls formed as River Nile squeezes through a 7m gorge before falling over a 43m cliff. The Murchison Falls are one of the most interesting features for a 3 days Murchison Falls Safari.
The journey sets off from Kampala or Entebbe through a series of landscapes entailing undulating hills, local farm land and natural forest to the north eastern region of Uganda. Enjoy Rhino Tracking in Ziwa Rhino Sanctuary; the only place you will find Rhinos in Uganda for now!
You will get to enjoy wildlife sightings such as the Big five game; the African bush Elephants, herds of African buffalos, Leopards, Lions, Rhinos, the endangered Rothschild's giraffe, many crocodiles, warthogs, chimpanzees, baboons and antelopes on this 3 days Murchison Falls safari.
With over 450 bird species including the rare shoebill stork, the dwarf kingfisher, white-thighed hornbill, great blue turaco and the Goliath heron. Ameera Africa Safaris offers this amazing 3 day Murchison Falls Safari tour to gratify your quest for tranquility and pleasure while exploring Africa's best natural attractions on a Uganda safari tour.
Included/Exclude
Parking Fees
4×4 wheel drive safari vehicle
Full time English speaking driver/guide
Full Board Accommodation – 2 Nights
Bottled drinking water throughout the trip
Additional Activities
Visa and airfares
Insurance
Tips to porters
Tour Plan
01
Day 1: Leave Kampala for Murchison Falls National Park – Track rhinos en-route
8:00 am to 5:00 pm
The 3 days Murchison falls tour will start with a scheduled pick up by our safari team. We journey through the country side that you have never seen before; passing by food and fruit markets along with cultivated land and local grazing fields. This part of the journey is very important because it gives you a glimpse into the life of the country men.
The first stop is Ziwa Rhino Sanctuary in northeastern Uganda just after Luweero. Here is where you partake in the first activity of the 3 days Murchison Falls Tour; Rhino Tracking! The Ziwa Rhino Sanctuary is the only place in Uganda where Rhinos can be found currently. Continue to the next stop at Masindi where you will have lunch.
Upon your arrival at Murchison Falls National park, we indulge you in a light drive to the top of Murchison Falls to offer you a glimpse of how much fun is packed into this Uganda safari! Head to your lodge for a check in and dinner as you look forward to the next day of the 3 days Murchison Falls Tour.
02
Day 2: Game drive and a boat cruise in the park
8:00 am to 5:00 pm
You will have your breakfast and head out for the day's first adventure travel excursion – a game drive through the park's mini jungles. You will be greeted by the African sunrise stroking your body with its gentle heat. The slow drive through Murchison Falls National Park will give you chance to spot a massive number of wildlife including; giraffes, lions, buffalos, waterbucks, antelopes, elephants and even the Uganda Kob.
In the afternoon after your lunch, you will set out for a boat cruise on Victoria Nile, where you will be able to spot a large number hippos and Nile crocodiles plus a number of water birds. You then head out for a boat cruise, you will sail along the Nile enjoying a generous view of crocodiles, hippos, elephants, buffalos, and many more animals. You will also see many water birds among which is the; Shoebill, fish eagle and storks. You have a chance to sail up close to the Murchison Falls – one of the most powerful falls in the world.
Optional Activities:
Hike to the top of the falls for birding, scenery viewing and nature walks
Sport fishing
Hot Air Balloon Safari
A sun-downer's boat cruise to the Nile delta for Shoe-bills
03
Day 3: Return to Kampala
8:00 am to 4:00 pm
On the last day of your 3 days Murchison Falls Uganda safari, embarking on a drive back to Kampala – Uganda's capital or to your preferred destination.
Tour Location
Frequently Asked Questions:
How do I get there?
Murchison Falls National Park is in northwestern Uganda and can easily be accessed by road from Kampala for about 7 -8 hours. Alternatively, a local plane can be chartered from Entebbe International Airport to Pakuba landing site which is just near the park entrance. Our travel team plans and takes care of all your transport needs for the 3 days Murchison Falls safari.
Best time to go?
Uganda experiences favorable weather all year round and it is quite easy to enjoy your 3 days Murchison Falls tour. However we recommend the drier months of January, February, June and July. Game drives are more fun in the dry season as animals gather around water sources to quench their thirst.
What to pack for 3 days Murchison Falls safari?
Binoculars
Enough drinking water
A hat and sunglasses
Breathable clothes especially in the dry season
Hiking boots
A backpack
Are there any rules to follow?
Do not litter the pack; all rubbish must be collected and disposed off in the appropriate places
Do not leave your tour vehicle unless instructed to do so
Maintain a decent dress code; always ensure that you are not displaying too much
Tipping is not mandatory but it will go a long way in showing your gratitude for the services offered
Always be friendly as long as professional boundaries are maintained.
Keep time always