Sport Fishing in Uganda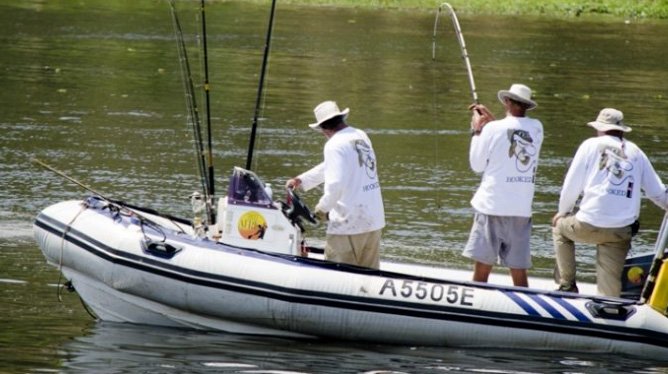 About 25% of Uganda is covered by fresh water bodies such as Lake Victoria, River Nile, Lakes Edward, George, Albert and Bunyonyi among others. This makes Uganda safari activities such as sport fishing not only a possibility but a thrilling engagement as well. In fact, famous anglers such as John Wilson, Jeremy Wade and Zed Hogan from the National Geographic channel have ventured into sport fishing in Uganda.
Unfortunately, not many travelers are inclined towards sport fishing and they often prefer to plan their safari in the savannah wilderness or along the mighty River Nile. With Ameera Africa Safaris however, sport fishing can be the best adventure you have had yet. It is best combined with other activities as a way to relax and unwind.
There are about 350 fish species in Uganda with the most caught species for commercial purposes being; Nile perch and Tilapia. Other common species include; lung fish, cat fish, silver fish and Tiger fish. Nile Perch happens to be the highlight of a sport fishing excursion. They can weigh up to 220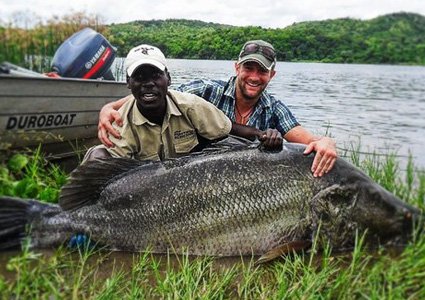 kgs or more; depending on where they are caught.
Fishing methods
Several methods can be employed during sport fishing depending on water levels and the fisherman's skill. Some of these methods include;
Angling
Hooks
Lures
baskets
Where to go for sport fishing
Entebbe
Aside from being popular as the location of Uganda's only operational international airport, Entebbe is quite the adventurous city as well. As travelers alight, they are instantly aware of a cool breeze sweeping over the entire field and into the airport. Although unaware, they have made their first contact with Lake Victoria; one of the world's most important fresh water lakes.
Located on the southern shores of Lake Victoria, Entebbe is mainly covered by water and is the perfect destination for sport fishing. Visitors can opt for a full day or half day excursions that last 8 hours and 4 hours respectively. Always ensure to have all your equipment ready and checked and also to steer clear of Crocodile infested areas.
The Ssese islands
The Ssese islands are a combination of about 84 islands spread on Lake Victoria. Each of the islands is perfect for sport fishing; especially angling. They can be accessed by ferry from Entebbe at Nakiwogo landing site to Kalangala. Travelers are encouraged to travel with their own equipment; ready and checked or hire some at the island. Also, a speed boat might be needed to explore all the islands.
Murchison Falls National Park
About 340 kilometers from Kampala, Murchison Falls National Park is both a spectacular destination for wildlife viewing and sport fishing. The park is dissected by the Victoria Nile as it bursts forth from Lake Victoria, flowing northwards into Lake Albert. The free flowing river squeezes through a 7m gorge before plunging into the devil's cauldron below.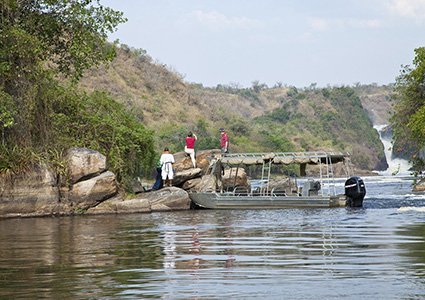 Most will station at the base of the falls to catch fish being stirred up by the falling water. The area is a hot spot for a variety of species such as; Nile Perch, Tilapia, cat fish, Tiger fish, barbell, Angara and yellow fish. Alternatively, one can catch some fish downstream among the rocks as well. This area is often calm and perfect for casting nets.
Lake Mburo National Park
Lake Mburo National Park is located about 3 – 4 hours away from Kampala. It is one of the best places to have sport fishing in Uganda. There are 5 lakes located within the park and the largest is Lake Mburo. This fresh water lake is a haven for several fish species such as; Tilapia and cat fish. Sport fishing is quite special at Lake Mburo because visitors can request their lodges or hotels to prepare for them the fish that they have caught.
Source of the Nile, Jinja
Based on the western shores of Lake Victoria, the source of the Nile is perfect for sport fishing. Here, anglers can look forward to catching large Nile Perch and Tilapia. Your fishing excursion can be combined with water sports such as white water rafting, Kayaking and tubing.
What to pack
Fishing equipment
Sunscreen and hat
A camera and spare batteries
Drinking water and snacks
Comfortable clothing and shoes
Backpack
Documentation, personal medicine and toiletries
When to go
The dry season can be especially troublesome for anglers because of the heat and turbulent waters. Also, they would need to watch out for crocodiles and Hippos that come closer to the shore in the heat. The best time to go sport fishing especially on Lake Victoria is from March to October. The temperatures are relatively favorable and the rains keep the water calm.
Contact us
Although Sport fishing isn't an activity taken on by many travelers on Uganda Safari holidays, it is quite an interesting and thrilling adventure. Get in touch with our team of experts to book your next safari by Emailing us Today!