Off the Ishaka-Kagamba Road of Sheema County in Sheema district, lies the Kitagata hot-spring; an ancient natural Jacuzzi that has become the banner of western Uganda. The hot spring, by road, is approximately 2km from Kitagata town and about 62 kilometers from Mbarara town; the largest and main urban centre in the entire sub region.
Aboard our Uganda safari tour Kitagata hot springs, we explore the two series of this magnificent hot-spring that is; Ekyomugabe and Mulago. Ekyomugabe hot-spring was a private resort for the former King or "Omugabe" of the Banyankole and was thus named as, "belonging to the King". Mulago on the other hand was named after Uganda's largest referral hospital.
Mulago's name was not coincidental; however, as many locals believe that it possesses natural healing powers. As you approach the Kitagata hot-springs on Uganda tours, you are bound to run into a number of people; men, women and children, bathing in the warm waters of Mulago in the hope that their ailments will be lifted.
The scenery
Uganda tour Kitagata hot-spring is proof that Uganda never really runs out of splendor. This natural escapade is gently nestled within a network of cone-like shaped hills and a generous count of Inselbergs covered by an endless spread of lush riparian vegetation. River Ngaromwenda flows closely nearby supplying the Kitagata with clear bouts of water.
A natural healing place:
More often than not, when people come across the word "Kitagata" they immediately associate it with "healing" and a "hospital". For Uganda safari tours, arriving at Kitagata features a "face-off" with numerous shelters scattered about the place. The structures are often small private rooms either finished off with corrugated iron sheets or grass thatched roofs.
There isn't any a criterion or prescription for getting treatment, however. In fact, when it comes to internal ailments such as stomach troubles, patients will collect the water in their containers and just drink it. It is a natural healing place where patients admit themselves of their own accord and also leave after "receiving" satisfactory treatment.
Meeting the local community
Kitagata hot-spring Uganda tours is the perfect opportunity for you to catch a glimpse of western Uganda. You will not only enjoy the splendid scenery around the area but will also get to meet the local Sheema community that has put the hot-spring on the map due to their cultural beliefs and ancient tradition.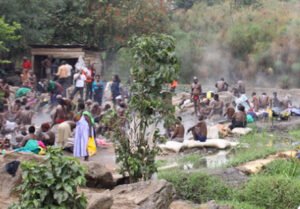 You will most certainly learn of how the native lives have been improved due to the presence of Kitagata hot-spring. For instance; the fertile plains surrounding Kitagata are a hot spot for farming hence supporting life with food crops. Additionally, the fertile ground has greatly fostered agricultural tourism which in turn boosts locals' incomes.
As for spiritual and psychological welfare; it goes without saying that Kitagata hot-spring provides a basis for the native Sheema occupants to keep their traditions and beliefs alive. They are at liberty to continue seeking out the "magical" healing powers of the spring that was once bestowed upon the area by ancient local gods.
What to do there:
Uganda safari tours Kitagata hot-springs welcome about 800 visitors weekly with the largest percentage being "patients". It is a 50 square kilometer stretch of natural hot water that has drawn many hearts to western Uganda and you will be one of them as you journey to Sheema for these Uganda tours.
The natives approach Kitagata hot-spring twice a day to lie, bathe and drink the water; in the morning and in the evening. Morning hours are often shorter lasting about 4 hours while the evenings are busier and stretch for longer periods of up to 7 hours. At this point, you will only need your camera to capture some great sights and scenery.
When to go:
Uganda has relatively good weather all year round and Sheema district is no exception. However, just like Mountain Gorilla trekking, Chimpanzee tracking and other adventures, visiting Kitagata hot-spring Uganda safari tour is best done in the dry months of January to February and June to July. Remember to carry a hat, sunglasses and enough drinking water.
Conclusion:
Kitagata hot-spring is a natural well of hot water that the locals in western Uganda have turned to for spiritual cleansing and healing. It is nestled within a network of cone-like shaped hills and a generous count of Inselbergs covered by an endless spread of lush riparian vegetation.
To book Uganda tours Kitagata hot-springs, contact us directly on +256-393-194074 or email us on info@ugandasafaritour.com.