3 Days Chimpanzee Trekking Kibale Safari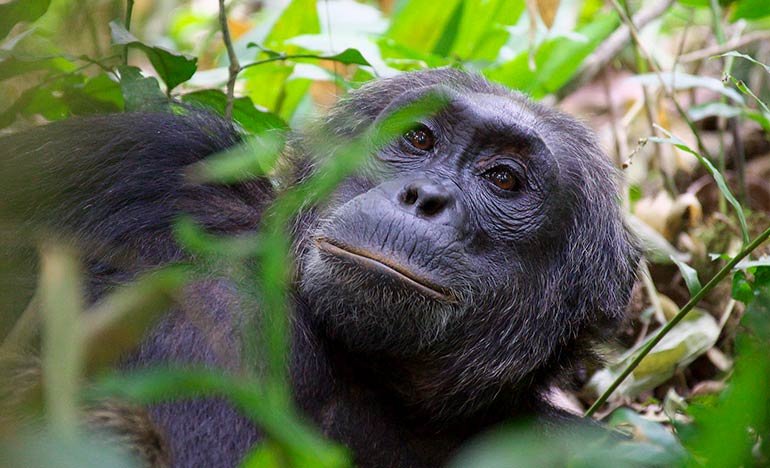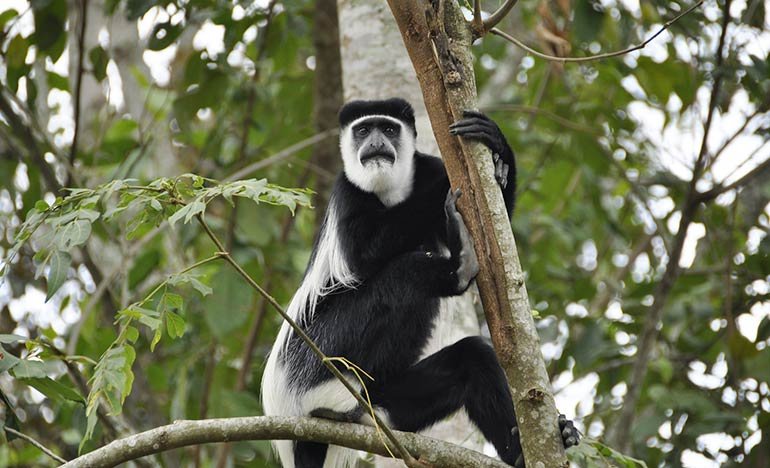 Overview
Kibale National Park is one of the most eco-logically diverse places in Uganda. It is located in the western part of the country within the deep reaches of the Albertine stretch of the Great Rift Valley. Kibale covers an area of 776 square kilometers dominated by moist ever green tropical rain forest. With our 3 days Chimpanzee Trekking Kibale Safari, you get to explore the beauty of this protected area.
There is quite a diverse habitat setting in Kibale comprising of rainforest, savannah grasslands, Rivers and swamps that supports plenty of fauna and flora. In fact, it is the best destination for a Chimpanzee Trekking Safari in Uganda since it harbors more than 1,500 Chimpanzees. Additionally, there are other 12 primate species in this park; a primate count that you will not find elsewhere!
When it comes to the birding on this Kibale Chimpanzee Trekking Safari Uganda, your options are quite endless. There are over 350 bird species here with specials such as the Great Blue Turaco. During your nature walk in Bigodi swamp, you will not only see plenty of birds and some animals but also get to meet some locals living around the swamp as well.
3 days Chimpanzee Trekking Kibale Safari Includes / Excludes
Chimpanzee Trekking Permit
4×4 wheel drive safari vehicle
Full time English speaking driver/guide
Full Board Accommodation – 2 Nights
Bottled drinking water throughout the trip
Additional Activities
Visa and airfares
Insurance
Tips to porters
Tour Plan
01
Day 1: Leave Kampala for Kibale Forest National Park
8:00 am to 4:00 pm
Our guide will pick you up immediately after breakfast to transfer you to western Uganda for the 3 days Chimpanzee Trekking Kibale Safari. By road, the journey takes close to 6 hours from Kampala city center. Alternatively, you can opt to charter a local plane from Entebbe International Airport to Kasese Airstrip from where you can be picked up and transferred to the park. The flight often lasts about 1 hour and 35 minutes.
Uganda is a place of lush green fields and you will be able to witness this on your trip. Many villages are characterized by open green expanses of land and herds of animals grazing on them. The first stop on this Kibale Chimpanzee Trekking Safari in Uganda will be at Fort Portal where you will have your lunch en-route before proceeding to your destination.
The moment you arrive at Kibale National Park, the whole scenery changes. Towering rainforests stand out and you are immediately drawn to this beautiful destination in western Uganda. The guide will then transfer you to your lodge as earlier booked; and here you will have your dinner and overnight stay as you prepare for the Chimpanzee Trekking Kibale Safari.
02
Day 2: Chimpanzee Trekking in the Kibale Forest
8:00 am to 5:00 pm
After an early morning breakfast, you will be picked up by our guide from your lodge to transfer you to the park headquarters for the 3 days Chimpanzee Trekking Kibale safari. At the headquarters, you are split into groups, briefed on what to expect and the rules and regulations of the whole adventure. Led by a guide and game ranger, each group heads out into the jungle to trek a family of Chimpanzees.
There is nothing quite like trekking Chimpanzees in their natural habitat. Their behavior will prove to you that these apes share about 98% of their DNA with humans; from the way they groom each other and accomplish small tasks such as crushing nuts with stones and collecting insects out of ant hills with sticks. After spending an hour within 8 – 10 meters of the Chimpanzees, you will be required to exit the forest.
Hiking back to the park headquarters is often a light nature walk as opposed to hiking up the forest. The guide will drive you back to your lodge for lunch before heading out again for an afternoon nature walk in Bigodi wetland sanctuary. Bigodi is a haven for a variety of birds and water animals and a great place to learn about local framing. In the evening, return to your lodge for dinner and a night's rest as your reminiscence on the Chimpanzee Trekking Kibale safari second day's adventure.
03
Day 3: Retrurn to Kampala
8:00 am to 5:00 pm
Your 3 days Chimpanzee Trekking Kibale safari has finally come to an end. Our guide will pick you up from your lodge as you prepare for your journey back to Kampala. By this time, you will have already had your breakfast and your bags already packed and you will join our guide on the road trip back to Kampala or Entebbe International Airport.
Your lunch will be your last meal on your Chimpanzee Trekking Safari in Uganda and this will be provided for en-route. Enjoy some last minute animal sightings within the park as you make your way out of Kibale National Park Uganda.
Tour Location
Chimpanzee Trekking Kibale Safari general tips:
Wear comfortable hiking shoes
Follow all the stipulated rules and regulations of Chimpanzee Trekking
Do not trek Chimpanzees if you are ill or feeling unwell. Although the trek is relatively mild, it might cause some strain for a person who is ill.
Tipping is one of the ways you can show your gratitude to your safari team for the services offered.
Wear comfortable clothes; preferably trousers and long sleeved shirts.
What to carry for a 3 days Chimpanzee Trekking Kibale Safari:
Camera and extra batteries
Backpack
Hat
Sunglasses
Binoculars