Chimpanzee Tracking Uganda Tours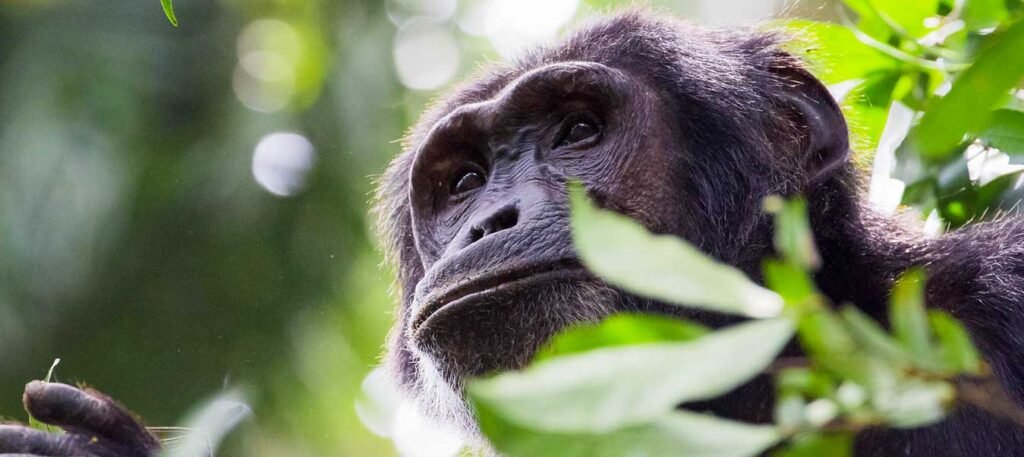 Often referred to as "the primates' capital", Kibale National Park is a unique wildlife destination set within the deepest reaches of the Albertine rift in western Uganda against a backdrop of the Rwenzori Mountain range. It is connected to the Ishasha sector of Queen Elizabeth, ensuring free movement and diversity of wildlife for Uganda safari tours.
Kibale offers elusive primate sightings of 13 primate species against dramatic scenery of coarse verdant forest resting on free-flowing ridges with the most popular primates being the Chimpanzees. Thousands and thousands of people make their way to this wilderness to be part of the Kibale Chimpanzee tracking Uganda tours.
It goes without saying that if you desire to enjoy an exclusive primate safari, let alone indulge in the best Chimpanzee tracking Uganda safari tour there is; then Kibale National Park is the destination for you. The park is home to about 13 Chimpanzee communities with each having members ranging from 100-160 individuals. Of these, only 3-4 communities are habituated.
Amazing Chimpanzee facts:
Chimpanzees share 98% of their DNA with humans making them the closest human relatives in the animal kingdom.
Females and children are very shy and often keep in the background while the male is bold and will most likely come closer to visitors.
A fully-grown adult male can grow up to 3m tall and weigh between 35-70kgs while a female will grow up to 2-3m tall and weigh 26-50kgs.
Chimpanzees have a shorter lifespan of 40 years but can live up to 60 years in captivity
Just like humans, Chimpanzees may experience hair loss and baldness as they age
They are highly intelligent and display human like traits such as crushing nuts with rocks, collecting water using empty pods and fishing out termites from holes with sticks.
Chimpanzees live in communities of about 100-160 members where you will encounter mothers grooming each other's young. Children leave their mother's nests at 4 years old.
Mating between communities is illegal for males but females will cross over to mate with male chimpanzees from other communities. However, in the event that the female conceives, she is not allowed to return to her community with the newborn lest she if forced to eat it.
They spend most of their time in the trees where they feed and make nests to sleep.
Chimpanzees feed on fruits, leaves, seeds and flowers.
An experience fit for a Uganda safari tour Chimpanzee tracking:
It would seem like just another day in the wild as you wake up to birds chirping in the trees…but a few hours into it and your mind will be totally changed. At Kanyachu visitor's center, you will receive a short briefing about the rules and safety precautions before treading the light path of a thousand primates on this Chimpanzee tracking Uganda tour.
After what might seem like the best time of your life, the hike comes to a halt as you come within 8m of the Chimps. Spend an hour watching the young cling to their moms, kiss and groom them. You have the rare opportunity to take amazing pictures of these golden moments. Watch out for other primate species and birds on this Uganda Chimpanzee tracking safari.
Rules for Uganda tours Chimpanzees tracking
Visitors are encouraged to follow set regulations such as an age limit of 15 years and above, no camera flashes, a clean bill of health and no littering. There should be no eating near the Chimps and no provoking or unnecessary noises as this could upset the primates.
Chimpanzee habituation
Chimpanzee tracking on Uganda tours in Kibale National park is not the only thing to look forward to. The habituation experience is equally as mesmerizing as you get to spend an entire day with a team of researchers and guides to study and also allow the Chimps to become accustomed to human behavior before they are ready for tracking.
Frequently asked questions
How much does it cost to trek Chimps in Kibale? Chimpanzee tracking permits on tour Uganda cost between $100 and $150 depending on the season. In peak seasons, permits are often on high demand and therefore limited. Visitors are advised in this light to book theirs atleast 6 months in advance to ensure that they do not miss out on the experience.
What other safari activities can I do in Kibale? Apart from Chimpanzee tracking, you can indulge in other activities such as Chimpanzee habituation, birding, game viewing and nature walks.
Is Chimpanzee trekking safe? Yes. It is absolutely safe. There is always a guide with you and Chimpanzees can be quite friendly if not provoked.
Where else in Uganda can I trek Chimps? Chimpanzee tracking on Uganda safari tours can be conducted in Budongo forest in Murchison Falls National Park and Kyambura gorge in Queen Elizabeth National Park.
What should I pack for safari in Uganda Chimpanzee tracking? A pair of Comfortable hiking boots, Trousers and long sleeved shirts to protect from pricking thickets, Drinking water and snacks, a pair of binoculars, a good camera and a Rain gear for the rainy season.
One of the most exciting things you will do on a Uganda tour is Chimpanzee tracking. It is a typical gate-a-way from your daily routine to the raw jungle of Kibale National park to seek out these intelligent and extra-ordinary primates; Chimpanzees. So contact us on info@ugandasafaritour.com  to book this safari.